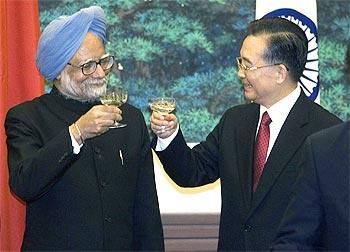 M

Taylor Fravel believes that India has little reason to worry about the alleged Chinese incursions near Mount Gya and that an increased troop density and the resultant increase in problems do not presage an aggressive move by China.
Dr Fravel is perhaps the premier expert on China's border problems -- although he himself denies it. As MIT's faculty site describes him, Dr Fravel, the Cecil and Ida Green Career Development Associate Professor of Political Science and member of the Security Studies Program at MIT, studies international relations, with a focus on international security, China and East Asia.
He has also authored a book on China's border disputes, Strong Borders, Secure Nation: Cooperation and Conflict in China's Territorial Disputes. A Rhodes Scholar who studied at Oxford University, he has a PhD from Stanford University and a graduate degree from the London School of Economics.
In an interview with rediff.com's P Rajendran, Dr Fravel argues that China has beefed up border security and associated infrastructure along all of its borders not just the one with India, although it has settled all its land border disputes, except those with India and Bhutan. He also suggests that India has tried to make most of the concessions that China was willing to offer, thus influencing the intensity of the conflict.
Dr Fravel believes that while territorial disputes are always intensely emotional, both sides need to sit down and reach a mature compromise on the matter.
As you see it, what is the genesis of India's border problem with China?
The problem goes back to the period of state formation of both modern India and the People's Republic of China.
Are you referring to issues over the McMahon Line?
No, I'm referring to the period after which independent states were established in India and in China, and the efforts by the states to define their boundaries.
You mean this involves only India and China and not the British role when deciding the border?
That's the primary problem (in the India-China border dispute). The McMahon Line and other British policies are a contributing factor. But even in the absence of the McMahon Line the two States would still need to define their boundary and agree upon that boundary.
The McMahon Line provides a reference point for doing so, but, as you know, the history of the Line itself is contested by China today.
http://news.rediff.com/slide-show/2009/oct/13/slide-show-1-china-has-settled-all-land-border-disputes-except-with-india-and-bhutan.htm