The private-public partnership model followed by the Indian Space Research Organisation (ISRO) in developing its acclaimed products will now be followed by the Ministry of Defence also.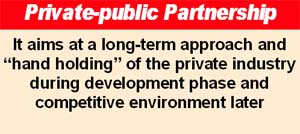 This aims at a long-term approach and "hand holding" of the private industry during development phase and competitive environment later. The government has accepted the recommendations of the Vijay Kelkar Committee made in this regard. The Ministry of Defence tabled a report in Parliament this week on the action it is taking to encourage long-term indigenous production.
In the past, Defence Minister AK Antony has expressed his anguish at the slow pace of development of local equipment and also the strategic shortcoming by depending heavily on imports.
Now for strengthening self-reliance in defence preparedness, the ministry will follow an in-depth study of the practices and procedures being followed by ISRO and also the Kelkar Committee report. The Parliamentary Standing Committee on Defence had met Dr Vijay Kelkar, who said the committee that ISRO "embraced" the private sector to meet its high-tech requirements.
Separately, the Defence ministry informed the committee that there were two aspects to the issues. One is of developing systems indigenously and the level of indigenisation through the transfer of technology (TOT) route. As regards indigenous research and development, major systems are in place like Prithvi, MBT Arjun and electronic warfare systems for Army and Navy.
The ministry said the frontline fighter Sukhoi-30MkI would have 43. 5 per cent local content by this year. This is up from 13 per cent during 2004-05. Similarly, in case of HAWK, the indigenisation percentage will increase from present level of 12 -15 per cent to 45 per cent in the raw material phase of production.
In case of T-90 Tank, the indigenisation percentage in the current year is 30 per cent and is likely to go up 70 per cent by 2010-11.